Canceled: Atypical Kinked Kinksters with Rachel Mimsy
May 18 @ 7:00 pm

-

9:00 pm

PDT
Do mental neurodivergencies impact sexuality, or prevent us from participating in sexual, kinky, or other "non-traditional" relationships?
Ticketing
Ticket Sales end at 6:45 pm
You must sign in with the email and name used to purchase the tickets.
You will have an opportunity to change your profile name after entering the presentation.
Due to recent changes by the Apple and Google app stores, tickets for this event cannot be purchased in the App and must be purchased from the Eventbrite website.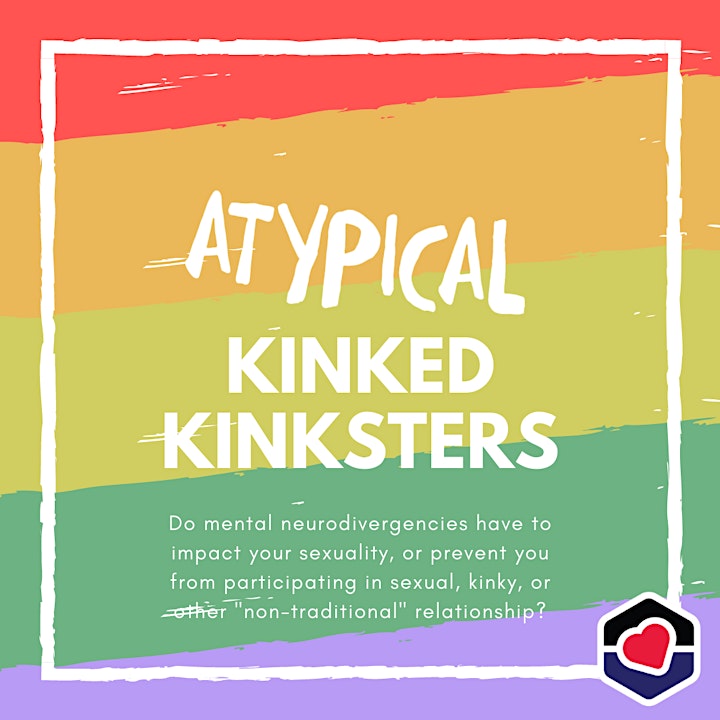 Class Description
Human sexuality is usually taught as it relates to neurotypical humans in heteronormative relationships. This is only useful if you want to write romance plots for the CW.
How do things like Depression, Anxiety, ADHD and other mental neurodivergencies impact sexuality? How can people with atypical brains participate in sexual, kinky, or other "non-traditional" relationships?
There will be a introduction and basic explanation of the more common types of neurodivergence and a brief overview regarding the evolutionary theories behind them. Afterward, the class will discuss particular scenarios involving negotiation, aftercare, boundaries, and other factors for neurodivergent, atypical presenting kinksters, and any allistic folx.
This class will have the option for online participation via Menimeter. Participants may wish to use a tablet or computer to ask questions and contribute suggestions. (This is not required.)
A list of resources and links will be made available to attendees.
Presenter Bio
Rachel (she/her) has been a curriculum writer and educator for over 20 years. She has a masters in education with an emphasis on teaching.
She has been part of the SF kink community since 2007. She was encouraged by friends in the community to follow her passion for kink and psychology and create classes. Her focus has been on the interaction between kink and psychology, both practical and theoretical.
Outside of the kink sphere, Rachel has developed classes on communication, psychology, dance movement, and educating trainers and teachers. For the past eleven years, she has taught college level psychology at a local high school.